WITH his involvement spanning more than three decades Vin Cox has become a titan of the Australian thoroughbred industry.
Beginning in 1988 with William Inglis & Son he had risen to associate director before resigning in 2002 to establish his own bloodstock company. That year he was also appointed as Australian representative of the Keeneland auction house.
With his reputation and standing in the business burgeoning Vin was, in April of 2011, named as managing director of the Magic Millions sales company. He held that position until January of 2018 when he stepped into the role of managing director of Godolphin in Australia.
It was on a visit to Keeneland in December of 2013 when, on a bitterly cold morning, he came across Rae-Louise Kelly shivering under a heater at the sales complex. Then in a supervising role in the yearling barn at Lane's End, Rae-Louise was reading the Thoroughbred Daily News, which featured photos of girls on the Gold Coast in shorts and t-shirts. She told Vin that was where she should be and he replied "no worries."
Along the way Vin, a personable character, had put together a legion of contacts and not long afterwards he rang saying, she "could startat Widden in the early part of January." "I was like 'no way' but I headed out to Sydney and I remember two weeks after I arrived I was at the Magic Millions yearling sales," Rae-Louise says.
Over the time since her pathway in the business and life in general have been on an upward spiral. In less than eight years down under she has been closely associated with three Gold Coast Magic Millions Two-Year-Old Classic-RL winners and a Magic Millions Fillies and Mares winner.
On a personal note not long into her stay at Widden she met highly respected veterinarian Dr Padraig Kelly. A romance was soon flourishing and they were married in 2018. As their relationship had progressed Rae-Louise and Padraig began pin hooking in partnership and by 2017 were in a position to buy a property, which they named Fernrigg Farm.
Impressively designed and fully irrigated it is located in the heart of the Hunter Valley. Since then Rae-Louise has specialized in the development of young stock as well as preparing yearlings for the major sales
and providing a boutique broodmare management service.
With the positive results being achieved clients have quickly gathered around Fernrigg and there have been drafts to the Magic Millions from the farm of up to 20 yearlings. Rae-Louise will be sending only seven yearlings to the Magic Millions in January and will spread others she is preparing around the major sales, which is a cautionary move because of the coronavirus pandemic.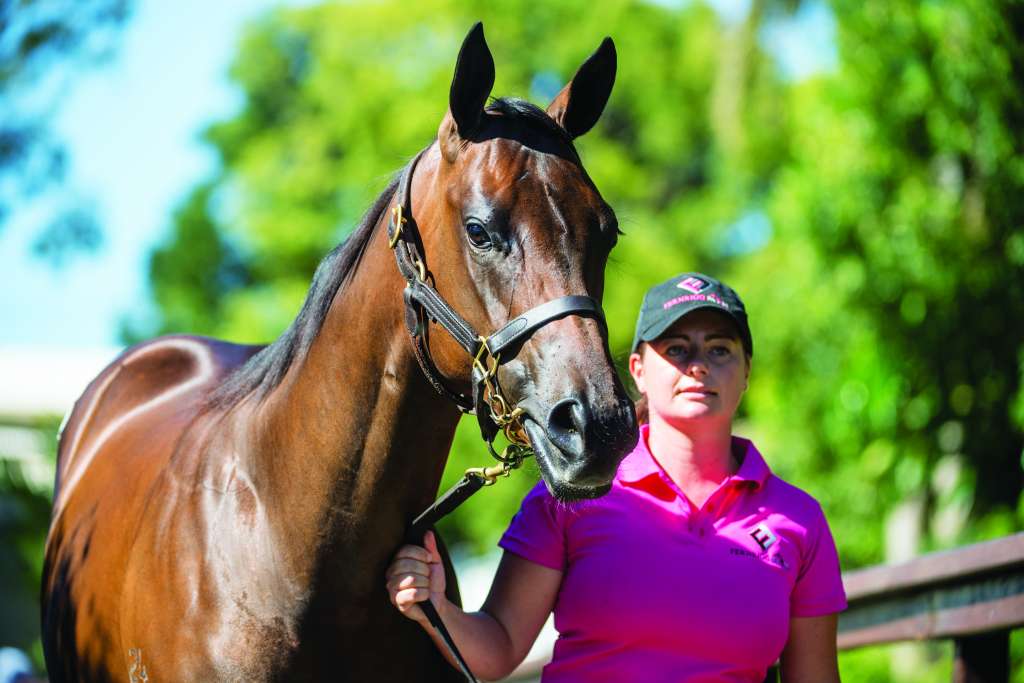 "We weren't able to go to the races but fortunately the pandemic did not affect us that much," she says. "What has been worst for us is that we haven't been able to get home to see our families. "It will be three years since we've been back by the time we finally make it home again and we're desperate to go."
When she is able to travel again Rae-Louise will be heading for Newcastle on Tyne, in the north-east of England where she was born and her family lives. During her first 16 years spent in Newcastle, her family had "a lot of Friesians", a breed that originated in Friesland in the Netherlands.
"When they weren't working we'd use them for jumping," she says. "I think basically I was riding before I could walk and as I was growing up I did a lot of show jumping." In her earliest days a grandfather, Tony Farmer, gave Rae-Louise a free-rein pony. "We competed around the country on the lead rein doing showing and things like that," she says. "It was fun"
On completing her secondary education in Newcastle Rae-Louise had no doubts where her future lay and, at 16, she headed straight to the National Stud at Newmarket where she undertook an apprenticeship course.
After the first three months at the National Stud she went to Girsonfield Stud, at Otterburn, Newcastle on Tyne, which had been established by Susan and Frank Corbett in 1999.
"I went there because it was close to home and it couldn't have worked out better," Rae-Louise says. "Basically it was a family run farm with 4,000 sheep, 20 National Hunt horses in work and three stallions. "I learnt just about everything I could about the industry on that little farm."
Following an invaluable 12 months spent at Girsonfield, Rae-Louise returned to the National Stud to undertake the diploma course, which she completed at a time when studs were looking for students to help with yearling preparations.
It was decided that Rae-Louise should be consigned to the Baron Lloyd-Webber – he of Cats, The Phantom Of The Opera, Jesus Christ Superstar and Don't Cry For Me Argentina fame – and Lady Lloyd-Webber's Watership Down Stud at Lambourn in Berkshire.
By then the Lloyd-Webbers had bred racehorses of the calibre of Black Hawk, Crystal Music, Dubai Success, Kilimanjaro, Marbush, Pink Camio, Rhagaas, River Dancer, Sauterne, Sublimity, Tchaikovsky and Twyla Tharp.
However, two horses Rae-Louise worked with, the Singspiel (IRE) mare Dar Re Me and her dam Darara, by Top Ville (IRE), became special to her.
When mated with Dubawi (IRE) Dar Re Me produced Too Darn Hot (GB), a brilliant performer whose victories were highlighted by wins in the Newmarket Dewhurst Stakes-Gr.1, the Goodwood Success Stakes-Gr.1 and the Deauville Prix Jean Prat-Gr.1.
Too Darn Hot, who was crowned Champion Two-Year-Old and Three-Year-Old in Europe in 2018 and 2019, has been standing under the Darley banner at Aberdeen in the last
two seasons.
"This year we foaled down the first two Too Darn Hots bred in Australia, which is pretty special considering I worked with his mother and grandmother while I was at Watership," she says.
"The Lloyd-Webbers were really great to work for and I learned a lot from them in how
to manage my own farm.
"They would always invite us to the races and they were very good to the staff so it was
an awesome place to work and I'm grateful for how much I learned while I was there."
When her time at Watership was coming
to a close in 2009 Simon Marsh, in his capacity as general manager of the stud, arranged
for Rae-Louise to move to Lane's End Farm
at Versailles in Kentucky.
"I turned up there two weeks before I turned 21, which was perfect because you are not allowed to drink before you are 21," she says.
There were two reasons to celebrate when
she was appointed to a supervising role in the main yearling barn at Lane's End, which was "pretty cool."
"The numbers of yearlings that they have
at farms like Lane's End are incredible and you go to Keeneland for a month," she says.
"It was a big time when I was there with Kingmambo being in his prime and A P Indy standing so it was all very exciting."
Rae-Louise had been at Lane's End for four years when she encountered Vin at Keeneland.
She didn't hesitate to follow through with the arrangements he had made but she had quite
a culture shock on her way to Widden.
"When I told Mike Cline, the manager at Lane's End, that I was going to Widden he said 'they don't even have proper fencing out there.'
"I've always remembered that because the driveway into Widden is 17km long and when we went over the first cattle grid I was like 'God there aren't any fences here'.
"I was thinking 'what have I done, Mike told me not to come.'
"Then when you drive right into middle of the valley you start seeing horses and fences.
"It is all so beautiful that I soon overcame my first impressions."
Although sight unseen, Rae-Louise went straight into the role of yearling manager, which she says gave her a valuable insight into the way yearlings are prepared for sale in Australia.
In her first year Widden was standing Dreamscape, Nicconi, Northern Meteor, Sebring, Snippetson, Star Witness, Stratum
and Tickets.
At that stage the stud's principal Antony Thompson was going through a period
of transition in Widden's operation.
"The farm had been going for something like 150 years but Antony is all about moving with the times and he was changing things to do that," she says.
"It was a really good experience working alongside him and seeing how they prepared the yearlings. It was a tough gig but it really paid off.
"We produced horses like Sunlight, who won the Magic Millions Two-Year-Old Classic, three Group 1s in Melbourne and earned over
$6.5 million in prizemoney.
"Another horse we produced was Le Chef, who also won a Magic Millions Two-Year-Old Classic."
A further highlight for her was being asked to teach Antony and Katie's children Sam and Amy how to ride.
"Antony and Katie knew I had a show jumping background and when I arrived they had two little ponies ready for the kids to learn to ride on," she says.
"It was also really good that during my time
at Widden I had the opportunity to again start show jumping myself.
"It is something I still do a lot of now.
"I have three horses in work and on my weekends off I travel to Sydney and I have kind of done a full circle.
"It's really cool to be able to get back
to something you are passionate about.
"I'm president of the Scone Jump Club and I'm really heavily back into it, which is great."
It was, significantly, while at Widden that she met her husband Padraig "where else but at the Magic Millions yearling sales".
Padraig, whose family live in the picturesque town of Killarney in south-west Ireland, graduated from the University College Dublin in 2007 and then completed a surgical internship at the Hagyard Equine Medical Institute in Lexington, Kentucky.
In 2008 he became resident veterinarian
at Coolmore Australia where he was responsible for overseeing the health and welfare of stallions such as Fastnet Rock, Pierro and So You Think.
With Padraig's distinguished accreditations and Rae-Louise's experience they were a formidable combination when they decided to begin
pin hooking.
Their most notable purchase has been a filly by Eurozone from Soft Landing by Al Maher which they secured for $30,000.
She was sold onto to Rosemont Stud at the 2017 Magic Millions Gold Coast yearling sale for $60,000 and then to Roll The Dice Racing for $120,000.
After being named Krone and going into the stables of Brisbane trainer Tony Gollan she was incredibly successful being a Group-placed stakes winner at two, three and four.
Then, as a five-year-old, she was triumphant
in the Gold Coast TC Magic Millions Fillies and Mares (1300m) and ATC Coolmore Classic (1500m)-Gr.1 to be retired with earnings
of $1,424,150.
"We didn't really pick Krone out on paper," Rae-Louise says.
"When we go to the weanling sales Padraig and I look at every weanling at the complex.
"We fell in love with her the minute she walked out of the box.
"She had a lovely attitude, presented herself beautifully and carried herself so well that
we said we just have to have this filly.
"And, what a great story she has proved to be."
By 2017 Rae-Louise and Padraig were
in a position to "set up on their own" and purchased 70 acres on the banks of the Hunter River on Denman Road on the outskirts
of Muswellbrook.
It was titled Fernrigg Farm by the Kellys after the name of the property her grandparents had at Newcastle on Tyne.
Previously known as Wexford Farm it had the distinction of selling, among others, Yankee Rose, who won the ATC Sires' Produce Stakes (1400m)-Gr.1 at two and at three won the ATC Spring Champion Stakes (2000m)-Gr.1 and finished third behind Winx in the MVRC Cox Plate (2040m)-Gr.1.
"Wexford had a very good reputation and being only 70 acres it was perfectly manageable for us, with Padraig having his veterinary commitments," Rae-Louise says.
"We had just two horses on the property when we started out.
"I remember going to work at 6.30 on the first morning, feeding my two horses and then wondering what I was going to do for the rest of the day.
"It's been a big challenge but over the years since we've built up a solid client base of a lot of people we've met through Widden and going around to the sales."
This has led to Rae-Louise and Padraig quickly accomplishing positive results.
The most notable has been selling the colt by Shalaa (IRE) from the Not A Single Doubt mare Fimatino to Mulcaster Bloodstock, New Zealand, for $160,000 at last year's Gold Coast Magic Millions yearling sales.
Consigned to Chris Waller's care and racing
as Shaquero he captured the ATC Breeders Plate-(1000m)-Gr.3 on his way to victory
in this year's Gold Coast Magic Millions Two-Year-Old Classic with Hugh Bowman aboard.
Shaquero went on to capture the ATC Pago Pago Stakes (1200m)-Gr.3 to retire with earnings
of $1,401,075.
"Having prepped two Magic Millions winners in my time at Widden and then have one come out of my own draft in such a short period
of time was pretty incredible," Rae-Louise says.
"And, to have Shaquero win the Two-Year-Old Classic on the day Krone won the Fillies and Mares was like a dream come true."
Importantly the first draft from Fernrigg
to the Gold Coast Magic Millions in 2018 had featured Excellent Proposal, by Exceed And Excel, who was knocked down to Bill Mitchell for $200,000.
After being a winner of two races in Sydney Excellent Proposal was sold to Hong Kong where he won the Shatin Hong Kong Classic Mile-(1600m) LR.
That set the trend and with numerous other headline successes following the Kellys were able to expand and purchased of a "couple
of hundred acres" of what a few years ago was Patinack Farm.
This has enabled Padraig, who established his Padraig Kelly Equine Veterinary Services in July of 2019 to establish a base on the property for his veterinary practice as well as a surgery.
"We live on the new property, which we have named Ferngrove, because its on Richmond Grove Road," Rae-Louise says. "We are using
it as our broodmare farm and we foal down all the mares there.
"We attend every foaling and It is working really well.
"It's about a 15-minute drive from Fernrigg and we are keeping the yearlings there.
"I don't have the figures off the top of my head but the statistics for the numbers of winners we've had, considering we are such a small farm, have been quite impressive.
"We are really pleased that over the last few years we have been able to significantly improve our stock.
"Now we have some big-name broodmares, that we own, on the farm like Dance Dance Dance, Kimberley Star and Arabian Gold, which is exciting for the future.
"It is all part of keeping the dream alive and I'm just waiting for the day when we breed and sell our first Group 1 winner."