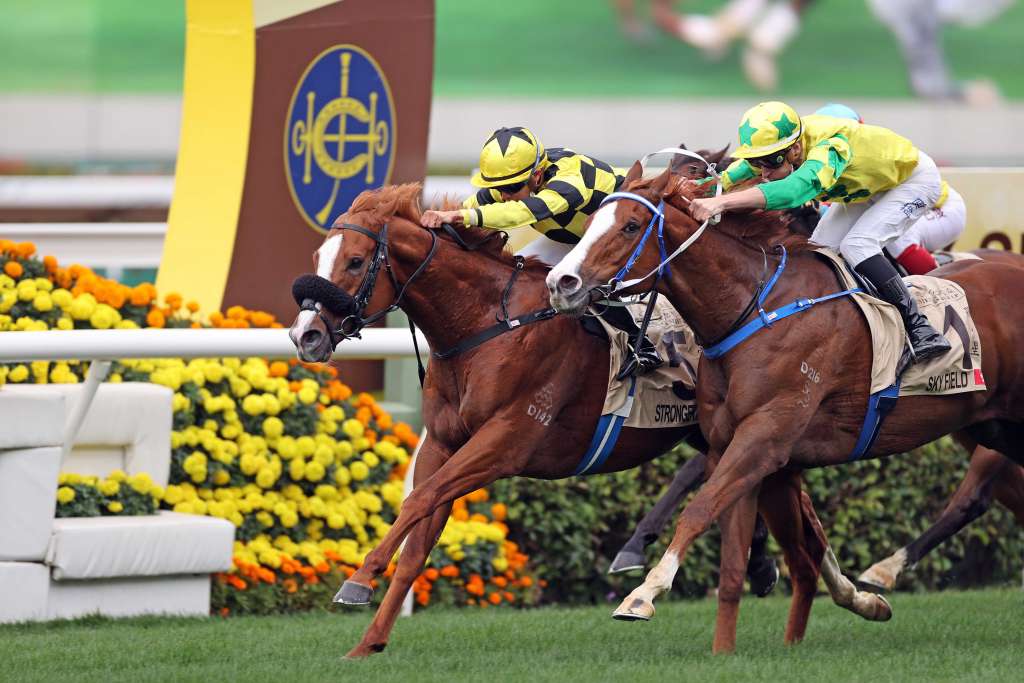 There's a whole gallery of reasons to find your next masterpiece among Arrowfield's Inglis Easter 2022 draft.
Over the past 30 years, the majority – 55 per cent to be precise – of the Group 1 winners offered as yearlings by Arrowfield have gone through the Inglis Easter ring.
They include 11 Champions, 14 colts that became valuable stallion prospects and eight priceless fillies, among them three Golden Slipper winners: Forensics, Miss Finland and Estijaab.
Arrowfield's success rate has grown steadily during those three decades, with eight Group 1 winners sold at Inglis Easter since 2015 headed by 5-time Group 1 winner, Champion 3YO Colt and now sought-after first-crop sire The Autumn Sun.
During that period Arrowfield, with less than 8 per cent of all offered lots, has supplied 12.5% of the Sale's stakes-winning graduates and almost a quarter of Inglis Easter's Group 1 winners.
In fact, one in every 8 of Arrowfield's 2015-21 Inglis Easter yearlings has so far earned black type, and buyers triple their chances of purchasing a Group 1 winner by focussing on yearlings coming out of Arrowfield's boxes.
Those advantages are magnified by the premium genetics of the 64 yearlings Arrowfield presents at Inglis Easter 2022.
Their sires include six with two or more Australian crops of racing age. Collectively, they boast more than $480 million prizemoney, 50 Group 1 winners and an outstanding Stakeswinners/Runners strike rate of one in every 12.
Snitzel, already a record-breaking four-time Champion Sire, is compiling one of the best seasons of his career: 15 stakeswinners by the end of February, including three Group 1 winners from his 2018 crop (In The Congo, Wild Ruler and Arrowfield-bred filly Yearning).
The final yearlings by Not A Single Doubt are commanding the attention he deserves at the end of a remarkable career that began humbly and has notched up 16 Group 1 winners, including Arrowfield's latest Inglis Easter star, so aptly named Stronger.
The five Group 1 winners, including Arrowfield-bred-and-sold young sires Castelvecchio and Super Seth, from Dundeel's first two crops mark him as a Champion sire-in-the-making and his 2022 yearlings reflect that assessment.
Maurice and Shalaa are already among the best of a powerful new generation of Australian sires and Rulership is a top 10 sire in Japan, while the two fillies by I Am Invincible and the three-quarter siblings (both by Pariah) to Anders and Stronger are enticing opportunities for breeder-investors.
The dams of Arrowfield's Easter yearlings are no less impressive, featuring 14 Group 1 winners and 11 other Group winners, plus the dams of six Group 1 winners and nine other stakes producers. Thirty-eight lots are the first, second or third living foals of their dams.
Arrowfield's Bloodstock Manager Jon Freyer highlights eight yearlings from a collection of Inglis Easter masterpieces:
Lot 22 – Dundeel – Whispering Brook colt
"Dundeel is a proven premier stallion with colts Castelvecchio and Super Seth already at stud after multi-million dollar deals. This well-grown, athletic colt from the super sprinter Whispering Brook is so typical of his best offspring. He looks very sharp and may well be the next Dundeel colt to win a Group 1 before heading
to stud."
Lot 96 – Snitzel – Carry On Alice colt
"A readymade two-year-old type, he's a very strong, great-doing colt with a tremendous hip, lovely depth and good swagger. I'm sure the colt syndicates that are looking for Slipper types will feel he ticks that box, and many others too.
His dam was a Group 1 winner as a two-year-old and with this colt just her second foal, she shapes as one of our most important mares."
Lot 273 – The Autumn Sun – Mantra Of Life colt
"We love the blend of international bloodlines with our great home-bred stallions, and here is an impressive colt out of a superbly bred Dubawi mare from the immediate family of Machiavellian. He is the right size and has scope and strength, plus that girth and shoulder we see so consistently with The Autumn Sun's offspring. He might fly under the radar slightly, but he's worth a long and sustained look."
Lot 318 – The Autumn Sun – Negotiate filly
"A wonderful first-crop The Autumn Sun filly from a marvellous broodmare. We've been so impressed by the depth of The Autumn Sun's progeny, and this filly is no exception, with a wonderful front and girth to her. She also resembles her illustrious three-quarter sister Secret Agenda and appeals as an early type
for her sire."
Lot 359 – Not A Single Doubt – Presque Isle filly
"A standout filly from the final crop of Not A Single Doubt. She's beautifully made, attractive and athletic with a great walk and tremendous presence. This is a world-class family with a physical to match."
Lot 391 – Not A Single Doubt – Run To The Beat colt
"Scat Daddy is one of the most important international stallion influences this century, and I love this smart Singles colt from a very well-bred Scat Daddy mare. He is right in the mould of the best Not A Single Doubt colts, strong and low to the ground with a great step to him."
Lot 424 – Snitzel – Silent Sedition filly
"Another Snitzel from a Group 1 sprinting mare, this is an exceptional filly, very mature with a great girth, lovely shoulder and a quality head. She is a very good mover who is bound to catch the eye of trainers and breeders alike. An extraordinary dual-purpose investment here."
Lot 448 – Dundeel – Stay With Me filly
"A gorgeous filly from a top-drawer mare. Her first two foals, both fillies, have displayed Group ability and no wonder: Stay With Me won the Thousand Guineas and is a daughter of the incomparable Miss Finland. It's doubtful we have seen a better Dundeel filly and the opportunity to buy a filly from the best branch of this family is rare indeed."
t: 02 9909 5555 (Sydney Office)
t: 02 6545 3999 (Scone)
e: office@arrowfield.com.au
www.arrowfield.com.au
Paul Messara: 0438 248 258
Jon Freyer: 0408 583 888
Sally Gordon: 0421 080 021