Shuttle stallions Almanzor and Hello Youmzain, who has completed his first tour of duty, were treated to full books in 2021 and associate sire Embellish was also a popular choice. The legendary Eight Carat blood remains abundant among the farm's broodmares, with ongoing international and domestic purchases adding to the depth of the band, while four-time top-flight winner and All-Star Mile hopeful Probabeel heads Brendan and Jo Lindsay's racing interests.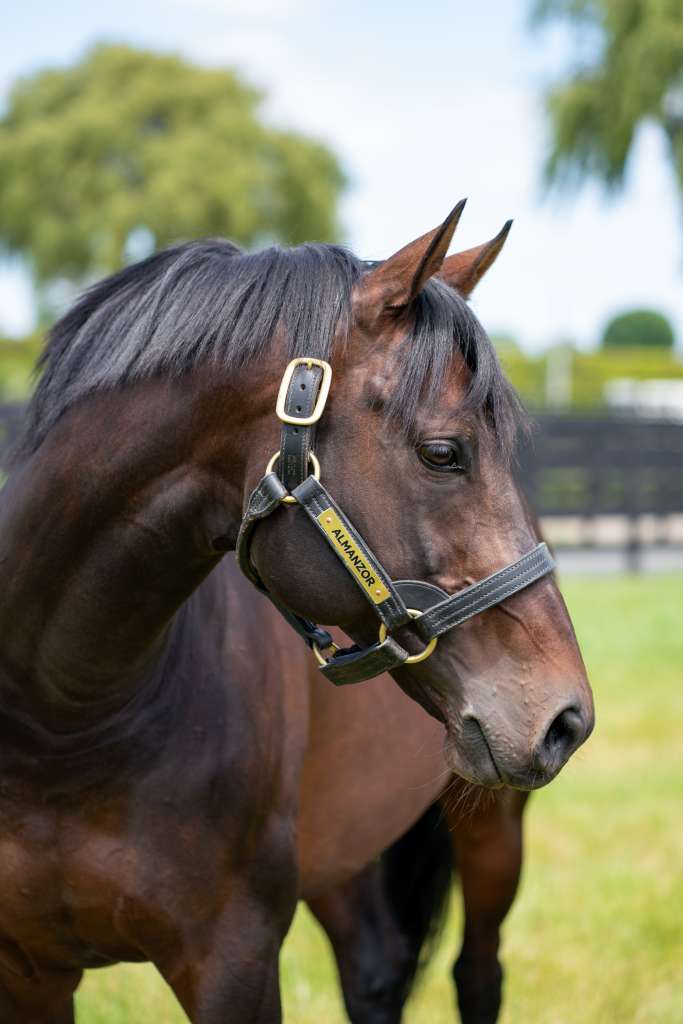 Wootton Bassett's son Almanzor has only been represented by a handful of first-crop two-year-olds this season and has already made a stunning impact. Cambridge Stud shares in the ownership of his son Dynastic, who at his second start claimed top honours in the Karaka Million 2YO-Listed for trainer Jamie Richards while another colt, Andalus, finished third on debut in the Wakefield Challenge Stakes-G2 from Stephen Marsh's stable.
It's therefore not surprising that spirits are high heading into the delayed New Zealand Bloodstock National Yearling Sale. Cambridge Stud's sizeable Book 1 draft will feature second-crop youngsters by Almanzor, the first by Embellish and the last of the much-missed Tavistock. An array of leading Australasian stallions are also represented to make this a consignment to please the harshest
of critics.
Almanzor, whose yearlings have sold up to A$800,000, will be represented by a mix of eight colts and three fillies. "There are quite a few there that are outstanding individuals, including the colt out of Its Our Showtime," Cambridge Stud General Manager Marc Devcich said.
He is Lot 333 and his dam won twice and is a half-sister by Showcasing to the Railway Stakes-G1 winner Inspirational Girl. "He is an attractive colt with plenty of quality with scope and good muscle. He is a well-balanced horse with a lot of presence about him, he's a lovely individual out of a good, current family," Devcich said.

"Another smart one is the colt out of Respin, he's another lovely, mature type and a very sharp and balanced horse. He is a mature type and very much in the mould of his father, a mirror image really. He is a lovely bay and looks like he might make a two-year-old."
The colt, Lot 532, is the first foal of the Inglewood Stakes-Listed winner Respin, who is a daughter of Power and a pedigree that features the dual Group 3 winner Perast and further back are the international Group 1 winners and sires Bellamy Road, Gold Fever and Out Of Place.
"We've got a lovely filly by Almanzor out of Infliction and the family of Karuta Queen. She is all quality, a very, very nice filly. She's an attractive type with a great temperament," Devcich said. She will be offered as Lot 317 and is a grand-daughter of the Red Anchor Stakes-G3 and Magic Millions 2YO Classic winner Karuta Queen, also runner-up in the William Reid Stakes-G1.
It will be with mixed emotions that the nursery sees the final crop of the prolific Tavistock, who sadly passed away in 2019 following complication after a freak paddock accident. "Obviously, there are a limited number on the ground and for sale this year and the ones we have available are good types with a lot of quality. We've got a quality colt who is out of a Fastnet Rock mare."
The dam of Lot 468 is Orphea, who was successful on two occasions and is a sister to the Australian Guineas-G1 winner Rock Classic. The third
dam Midnight Fever was a Blue Diamond Stakes-G1 winner. "He's a quality colt with plenty of bone and we're particularly happy with him," Devcich said.
Another smart type is Lot 67, who has plenty going for him on looks and pedigree. "He is a nice colt out of Ziffel and that cross with Zabeel mares works impeccably well. He is a neat type who looks like he will progress into a nice three-year-old," Devcich added.
"He's got plenty of muscle and stands over a bit of ground and is very well-balanced. Tavistock has done a fantastic job and continues to do so with plenty of winners, including Pinarello who we bred and race and is hopefully going to the Derby."

Tavistock's daughter, Lot 20, is a good-looking filly and with an international pedigree is a complete package. "She's a lovely type, full of quality and she is from the family of Time Test," Devcich noted. She is the first foal of Timespan, a winning daughter of Al Kazeem, and the second dam is a sister to the Criterium de Saint-Cloud-G1 winner Passage Of Time, who is the mother of the multiple Group 2 winner and sire Time Test.
Another highlight is Savabeel's son Embellish, who won the New Zealand 2000 Guineas-G1 and Cambridge Stud will offer a couple of first-crop youngsters during the Book 1 session. "He has thrown a very nice article with an abundance of quality and we've got two nice colts," Devcich said.
"The one out of Love Diamonds is very sharp, he's a dark brown and has a bit of presence about him. He looks like he'll get up and go early and we're very pleased with him." He is Lot 386 and is a three-quarter brother to the Lowland Stakes-G2 winner and former joint NZB Filly of the Year Queen Of Diamonds. "He's a really precocious sort and could be a Karaka Million type," Devcich said.

"The other one out of Grand Wish is a very mature type and he's out of a Smart Missile mare and he looks like he might show something early as well. There's a bit of Smart Missile about him." The dam is a half-sister to the Galaxy Handicap-G1 winner Griante and the colt will go through the ring as Lot 287.
Cambridge Stud will also offer yearlings by Australian-based stallions, including a daughter of the Triple Crown winner Justify and the internationally performed sprinters Brazen Beau and Merchant Navy. "The Justify filly is a neat, strong type out of a mare that won five. She looks like she could go early with a very strong hindquarter and is really precocious, there's plenty behind the saddle," Devcich said.
The Justify youngster, Lot 407, is out of the five-time winner Mefnooda, who is by Medaglia D'Oro and a half-sister to the Blue Diamond Prelude-G3 winner One Last Dance and an international flavour in the pedigree through the Hanshin Asahi Hai Futurity Stakes-G1 winner Satono Ares.
"Overall, we have got a good cross section of horses and some really early-maturing types like the Merchant Navy and the Brazen Beau filly is very sharp and well-muscled with a great outlook," Devcich said. "The draft is very consistent on quality and there's a horse for everyone. We are very pleased with what we will offer and have a lot of precocious types, we probably haven't had as many in previous years."
The Merchant Navy, Lot 85, is a son of the Galileo mare Anchovy and she is a three-quarter sister to the English Derby-G1 winner Ruler Of The World with the multiple Group 1 winner Duke Of Marmalade also under the third dam. The daughter of Brazen Beau, Lot 312, is a grand-daughter of the Railway Handicap-G1 winner Imananabaa and the family of the Robert Sangster Stakes-G1 winner Rostova.
Stallions Weekly Bulletin
Subscribe to our weekly newsletter
Mark Devcich was appointed to the General Manager role in 2020 and has been involved in the thoroughbred industry since his school days and previously worked at Highview Stud, Windsor Park Stud and Mapperley Studin various roles. In Australia, he has enjoyed stints at Segenhoe Stud and Widden Stud and in the United States at Dixiana Farm in Kentucky where a highlight was foaling down the future Epsom Derby-G1 winner Benny The Dip.
He is one of the most knowledgeable horsemen in the country, his comments are well worth taking on board, and he will be only to happy to field any inquiries from prospective buyers, whether at Karaka or by phone from Australia
2022 Draft
| | | | | |
| --- | --- | --- | --- | --- |
| 20 | F | 29/07/2020 | Tavistock (NZ) | Timespan (GB) |
| 22 | C | 15/09/2020 | Tavistock (NZ) | Tipilk (NZ) |
| 25 | C | 20/08/2020 | Eminent (IRE) | Too Many Diamonds (NZ) |
| 42 | C | 31/08/2020 | Almanzor (FR) | Vera Drake (FR) |
| 49 | C | 3/09/2020 | Almanzor (FR) | Vinorules (NZ) |
| 67 | C | 30/09/2020 | Tavistock (NZ) | Ziffel (NZ) |
| 85 | C | 2/09/2020 | Merchant Navy (AUS) | Anchovy (IRE) |
| 92 | F | 25/08/2020 | Tavistock (NZ) | Aotearower (NZ) |
| 134 | C | 26/10/2020 | Almanzor (FR) | Botanic (NZ) |
| 141 | C | 30/08/2020 | Epaulette (AUS) | Bubble Rani (FR) |
| 144 | F | 30/08/2020 | Savabeel (AUS) | Buy Me a Rock (AUS) |
| 170 | F | 18/08/2020 | Zoustar (AUS) | City Fair (GB) |
| 186 | C | 5/10/2020 | Savabeel (AUS) | Cover Charge (USA) |
| 191 | C | 30/10/2020 | Almanzor (FR) | Danahere (NZ) |
| 225 | F | 27/10/2020 | Almanzor (FR) | Enjay (NZ) |
| 287 | C | 28/09/2020 | Embellish (NZ) | Grand Wish (AUS) |
| 291 | F | 5/09/2020 | Almanzor (FR) | Hayley Grace (NZ) |
| 309 | F | 11/08/2020 | Iffraaj (GB) | Illadore (FR) |
| 312 | F | 17/09/2020 | Brazen Beau (AUS) | Imanana (AUS) |
| 317 | F | 2/09/2020 | Almanzor (FR) | Infliction (AUS) |
| 324 | C | 29/08/2020 | Almanzor (FR) | I Presume (GB) |
| 333 | C | 13/10/2020 | Almanzor (FR) | Its Our Showtime (NZ) |
| 339 | F | 2/10/2020 | Savabeel (AUS) | Joyous Thunder (USA) |
| 347 | C | 11/10/2020 | Iffraaj (GB) | Keraton (AUS) |
| 373 | C | 19/11/2020 | U S Navy Flag (USA) | Lazaan (NZ) |
| 386 | C | 12/11/2020 | Embellish (NZ) | Love Diamonds (AUS) |
| 407 | F | 22/10/2020 | Justify (USA) | Mefnooda (AUS) |
| 428 | C | 30/08/2020 | Dundeel (NZ) | Mitigate (GB) |
| 438 | F | 18/09/2020 | Tavistock (NZ) | My My Maree (AUS) |
| 443 | F | 14/08/2020 | Tavistock (NZ) | Nessun Dorma (GER) |
| 468 | C | 21/08/2020 | Tavistock (NZ) | Orphea (AUS) |
| 469 | F | 4/11/2020 | Per Incanto (USA) | Our Drahma Queen (NZ) |
| 482 | F | 12/10/2020 | Ocean Park (NZ) | Pass the Post (AUS) |
| 499 | F | 28/10/2020 | U S Navy Flag (USA) | Polyantha (AUS) |
| 500 | C | 8/10/2020 | Tarzino (NZ) | Pondarosa Miss (NZ) |
| 532 | C | 28/08/2020 | Almanzor (FR) | Respin (NZ) |
| 561 | C | 9/09/2020 | Vancouver (AUS) | Sawakiyna (IRE) |
| 575 | F | 23/08/2020 | Kermadec (NZ) | Shontee (AUS) |
| 580 | C | 7/11/2020 | Savabeel (AUS) | Silk Pins (NZ) |
| 609 | C | 9/09/2020 | Russian Revolution (AUS) | Star of Tralee (NZ) |
| 621 | C | 2/09/2020 | Pierro (AUS) | Subatomic (GB) |
| 623 | C | 5/09/2020 | Almanzor (FR) | Summalucky (NZ) |
| 632 | F | 28/10/2020 | Almanzor (FR) | Sussex Dancer (IRE) |