The list of Champions to come off Haunui Farm always makes impressive reading. Just recently the likes of Melody Belle and Western Empire were raised on Haunui's pastures, an experience shared by the 62 youngsters that the farm will present at Karaka in March. We spoke with Haunui's Sales & Marketing Manager Shannon Taylor about what buyers can expect when they inspect the draft in Box B.
What strikes the reader glancing at a catalogue is the different stallions that make up the Haunui draft. Shannon explained "We always offer the market a varied draft with 18 individual stallions represented in Book One this year. So, if a buyer is off one particular stallion they will always find something appealing in our barn.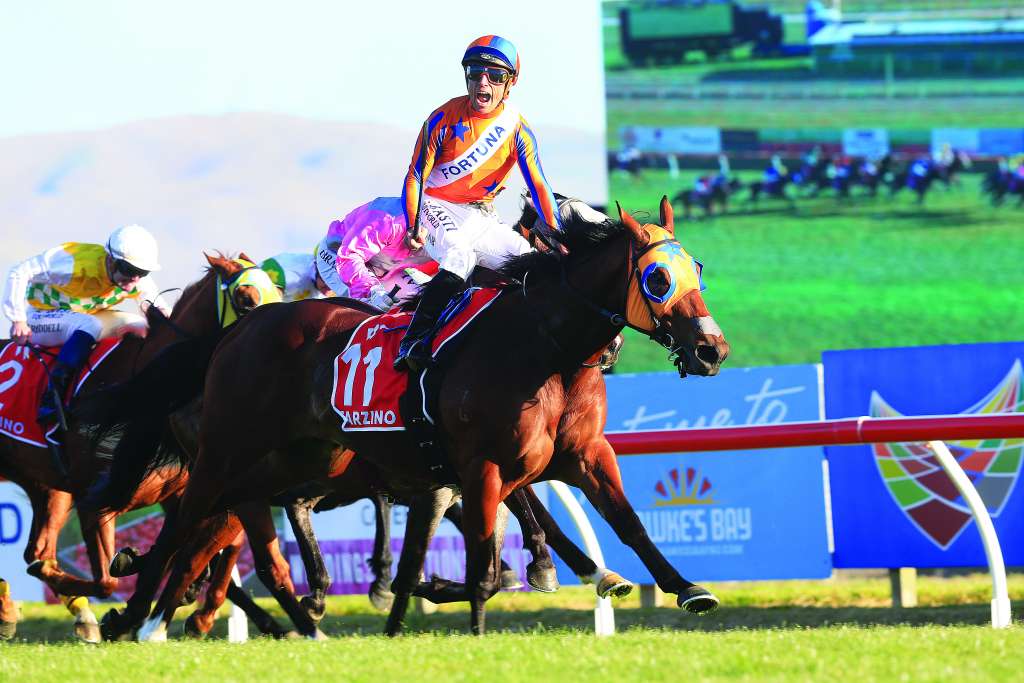 Anyone looking for that something different, with the chance of a Coolmore offered Ferrari thrown in, should consider Lot 255, Justify's son out of Savabeel's multiple Group race winning daughter Floria. "Of course Floria won the Brisbane Cup and was an outstanding race mare on the track" Shannon said. "He's quite a physical style of horse, good bone and muscle. People definitely shouldn't dismiss him just because of his November 17th birth date, he's definitely a colt that fills the eye. We will be hoping the Kiwi trainers will go chasing the Ferrari with him."
Another prime lot carrying the Haunui brand is Lot 37, an Ocean Park full brother to the good mare Rondinella. "Rondinella raced so well for us out of the John O'Shea stable last year but with so little luck. They are both out of Valpolicella (Red Ransom) whose been a great producer with three Stakes winners as well as Rondinella Gr.1 placed. The colt comes from the Haunui foundation family, is a good physical, well-balanced colt with the page to back it up."
With Iffraaj no longer on shuttle duty this is the last opportunity to buy one of his yearlings in New Zealand. "It's really the end of an era for Iffraaj who was a major part of the Haunui story for so many years. He just keeps kicking goals and I think his yearlings in our draft will be sought after. Two particularly nice colts by Iffraaj in the draft are both first foals, one out of Quick Choice (Darci Brahma) a daughter of the Listed winner Bonaichi (Fusaichi Pegasus) and another colt out of Powerfilly, a Power half-sister to the Gr.2 winner So Pristine (Zabeel). Both are cracking types, and we couldn't have asked for the mares to have done a better job."
While the opportunities to tap into Iffraaj's genes directly will dry up, Haunui are excited to offer one of the next generation of his line as Lot 329, a son of Almanzor who was a sensation in the ring last year and has come out firing with his juveniles. "Like all the Almanzors this fellow is a quality type. He's out of a half-sister to Gr.2 Waikato Guineas winner and Two Thousand Guineas runner up Field Of Gold (Starspangledbanner) who is a leading New Zealand Derby contender. Close relation Sherwood Forest was a Derby winner and this colt is a very nice colt, just the third foal out of the mare. There is certainly plenty of upside with him."

Haunui will also be able to offer buyers opportunities to secure yearlings by the incomparable Savabeel. "We are lucky enough to be offering three Savabeels led off by Lot 190, a filly out of Cutting Remark making her a half-sister to the three time Gr.2 winner Spanish Whisper. We will also offer as Lot 635 a filly out of the Gr.3 placed Symphonic who carries the magic Savabeel/O'Reilly cross. Both are what you would expect to see from Savabeel fillies, good physical types and they have shown great attitudes in the prep so far. We also have Lot 616, the colt out of Striker (Van Nistelrooy) a Listed winning Gr.1 placed mare that has already left the Gr.3 winner First Impressions (Rip Van Winkle). Savabeel does a remarkable job and we have offered a number of yearlings by him in the past but I think these three are the best we have had by him."
The progeny of resident stallion Belardo are scattered amongst the best New Zealand nurseries with Haunui themselves sending 14 youngsters across the two books. "Belardo finished 2021 and started the new year in super style having ten winners since the beginning of December. Last season he was crowned Champion First Season Sire and Champion Sire of Two-Year-Olds which showed he can get early runners, but I think we are seeing a few of them will appreciate a little bit more ground." Shannon feels there is better to come from the son of Lope De Vega "We believe this, his third crop to go to Karaka, are the best so far on type. All are good physical, good moving horses. Belardo generally leaves a fundamentally correct, easy to manage foal which makes them quite straight forward in terms of managing through a yearling preparation. I think this should be a year for buyers to be loading up on Belardo given what we are starting to see on the track and with the quality types that he has coming through."
Besides the above mentioned Haunui will offer youngsters by proven, commercial stallions like Snitzel, Deep Field, Sacred Falls and Per Incanto to name a few. And remember two time Horse Of the Year and a fourteen time Gr.1 winner Melody Belle (Commands) was a Haunui offering in 2016 and her Listed winning three-year-old half-brother Tutukaka (Tavistock) in 2020. Shannon explained "Tutukaka is headed on a Derby path, so it is exciting to have another quality horse headed that way. Also recent Gr.1 Railway Stakes winner Western Empire (Iffraaj) was born and raised at Haunui. We had 16 Stakes performers last season and we are up to 10 already this season so I'm sure there will be a number of blacktype performers amongst our 2022 draft, it is just up to the buyers to use their expertise to work out which ones they are going to be, which ones to take home.
2022 Karaka Draft
| | | | | |
| --- | --- | --- | --- | --- |
| 21 | C | 2/10/2020 | Iffraaj (GB) | Tinnelly (NZ) |
| 27 | C | 4/10/2020 | Belardo (IRE) | Triaction (NZ) |
| 37 | C | 24/09/2020 | Ocean Park (NZ) | Valpolicella (NZ) |
| 40 | C | 31/10/2020 | Satono Aladdin (JPN) | Veloce Bella (NZ) |
| 61 | F | 17/09/2020 | Snitzel (AUS) | Xpression (NZ) |
| 122 | C | 18/10/2020 | Sacred Falls (NZ) | Best Command (AUS) |
| 127 | F | 25/10/2020 | Ocean Park (NZ) | Black Mascara (NZ) |
| 142 | C | 19/09/2020 | Spirit of Boom (AUS) | Buckling (AUS) |
| 158 | C | 4/09/2020 | More Than Ready (USA) | Celeris (NZ) |
| 159 | C | 21/10/2020 | Embellish (NZ) | Celeste (NZ) |
| 190 | F | 30/09/2020 | Savabeel (AUS) | Cutting Remark (AUS) |
| 255 | C | 17/11/2020 | Justify (USA) | Floria (NZ) |
| 327 | F | 14/08/2020 | Deep Field (AUS) | Irish Fling (NZ) |
| 329 | C | 15/09/2020 | Almanzor (FR) | I See Fire (NZ) |
| 338 | F | 31/10/2020 | Per Incanto (USA) | Joy of Life (NZ) |
| 343 | C | 8/11/2020 | Charm Spirit (IRE) | Kate Cross (NZ) |
| 445 | F | 20/09/2020 | Ocean Park (NZ) | Never in Doubt (NZ) |
| 502 | C | 22/09/2020 | Iffraaj (GB) | Powerfilly (NZ) |
| 513 | C | 12/09/2020 | Iffraaj (GB) | Quick Choice (NZ) |
| 514 | F | 11/11/2020 | Iffraaj (GB) | Quin Bay (NZ) |
| 518 | F | 8/11/2020 | Iffraaj (GB) | Ready for Glory (AUS) |
| 525 | F | 12/10/2020 | Pride of Dubai (AUS) | Regally Blonde (AUS) |
| 527 | C | 28/10/2020 | Ocean Park (NZ) | Rekindled Glory (AUS) |
| 534 | C | 29/09/2020 | Dundeel (NZ) | Ritzy (AUS) |
| 537 | F | 16/09/2020 | Written By (AUS) | Rockabyebaby (NZ) |
| 616 | C | 24/08/2020 | Savabeel (AUS) | Striker (NZ) |
| 635 | F | 26/10/2020 | Savabeel (AUS) | Symphonic (NZ) |
| 653 | F | 27/10/2020 | Shamexpress (NZ) | Tiz Kate (NZ) |