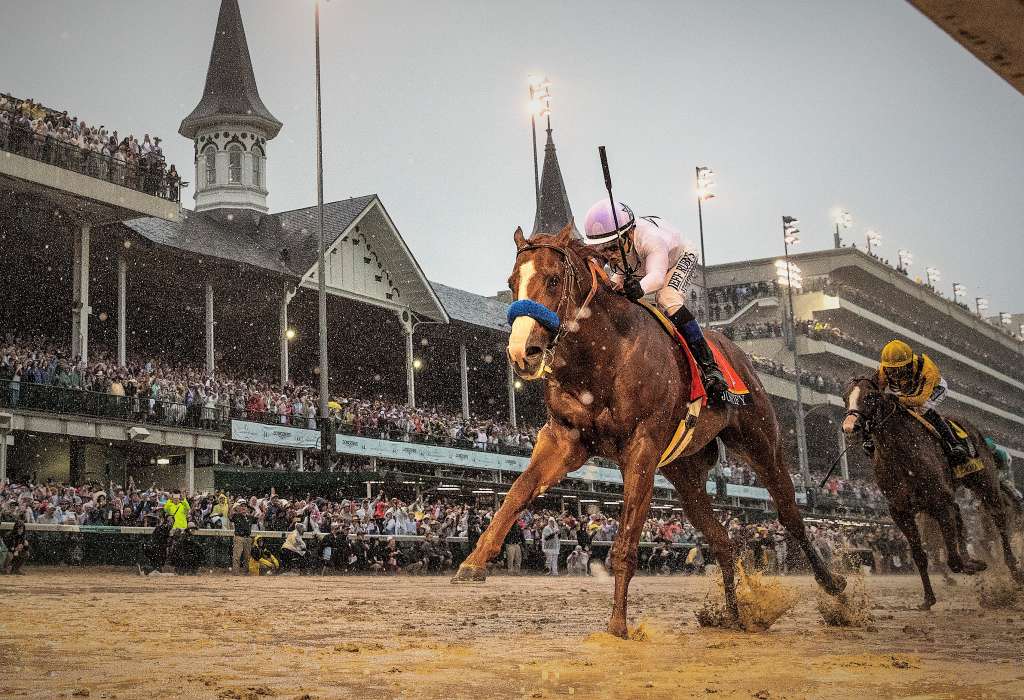 Justify (Scat Daddy-Stage Magic, by Ghostzapper) is the only member of a unique club. An unbeaten Triple Crown winner. To put this in some context, the American Triple Crown consists of three races; the Kentucky Derby, the Preakness Stakes, and the Belmont Stakes. The Belmont Stakes was first run in 1867, the Preakness in 1873, and the Kentucky Derby in 1875, making that the first year it was possible to win a Triple Crown. In the 146 years of the Triple Crown's existence, only thirteen horses have won it, and only one was unbeaten in their entire racing career.
When fellow Coolmore Stud stallion American Pharoah (Pioneerof the Nile) won the Triple Crown in 2015, he was the first in 37 years. The annual foal crop in American during that time has fluctuated but over the last thirty years, the average has been just under 30,000 foals per season. If you take that over those 37 years, it means American Pharoah was one of around 1.1million foals born since the previous Triple Crown winner – a one in a million horse.
But this isn't a story about American Pharoah, it's about his impressive stablemate, Justify. And if American Pharoah is a one in a million horse, an unbeaten Triple Crown winner – the only one in history – is on a completely different scale of uniqueness. Out of every foal born in America since 1875, Justify is the only one who is an unbeaten Triple Crown winner.
Just let that sink in for a bit.
The only unbeaten Triple Crown winner. Justify had his first race day start as an early three-year-old in February 2018, winning a maiden race over 1400m on a fast dirt surface. A month later, he was sent out in an Allowance race over a mile on a muddy surface, and he won that too. Three weeks later, in early April, Justify was sent out as the 4-5 morning-line favourite for the Gr.1 Santa Anita Derby. He jumped from the second to outside gate and found the lead easily. He raced out at a quick pace in a relaxed fashion, leading the rest of the field by three lengths. At the final turn, Bolt d'Oro pushed hard, closing the gap to a length, and they battled well for a while until Justify pulled away to win by three lengths. As the race-caller said, "He's on a dizzying ascent to greatness."
Going into the Gr.1 Kentucky Derby unbeaten in three starts, punters thought Justify was going to continue his winning ways, and he started the race as the 3/1 favourite. The first Saturday in May was a rainy one, with a sloppy track for the 2,000m race. Justify jumped from the middle gate and Mike Smith rode him into a nice position in second spot, one off the fence. Coming into the final turn, Justify took the lead by a length and started to pull away from the field. Good Magic fought hard in second, but Justify held on easily to win by a couple of lengths. He was the first winner of the Gr.1 Kentucky Derby in 136 years to have not raced as a two-year-old, and remained unbeaten heading into the next leg of the Triple Crown.
The Preakness Stakes, run over 1900m, was two weeks later, and the weather wasn't any better. A sloppy track and foggy weather didn't bother punters who sent Justify out at the short odds of 1/5 ($1.20). Justify jumped from the second widest gate and raced ahead to find the lead by half-way down the straight. Good Magic once again matched Justify all the way up the back straight with the pair three lengths ahead of the rest of the field. At the final turn, Good Magic put his head in front, but Justify fought for the lead, and slowly put a length on Good Magic. Both Bravazo and Tenfold flew home late on the outside, but Justify held on to win by half a length with Good Magic back in fourth.
The scene was set for another Triple Crown winner and the American media went wild. Justify was sent out as the 4/5 ($1.80) favourite by punters and it was announced he would carry a different set of colours for the Gr.1 Belmont Stakes over 2400m with the switch from WinStar Farm colours to China Horse Club colours being something the two owners often do when they share ownership of a horse. "The sharing of silks ensures both the WinStar brand and China Horse Club brand are promoted," said Eden Harrington, the vice president of the China Horse Club. "As an ownership group, we are very tight-knit. The credit for the quality of our relationship rests with Mr. Kenny Troutt and Mr. Teo Ah Khing. Regardless of the colours that are worn on our horses, we all cheer passionately; we all cheer as one." The weather was pleasant, and the track officially rated as fast, the same as his debut win. Justify drew the inside gate and he bounced immediately to the lead, cruising at a quick pace to control the race. At the turn, Justify lead by a length from Vino Rosso. "Justify comes roaring home to a raucous Belmont Park with one furlong to run." He won by two lengths from Gronkowski and Hofburg with Vino Rosso in fourth. "He's just perfect. And now he's just an immortal. Justify is the thirteen Triple Crown winner."

Justify was crowned the 2018 USA Horse of the Year, and the Champion 3YO Colt. He was given a rating of 125 by the Longines World Thoroughbred Rankings, making him the highest rated 3YO on dirt.
From the seventh crop of Scat Daddy (Johannesburg-Love Style, by Mr. Prospector), Justify is one of 136 stakes winners for Scat Daddy, and 31 of those have won at Gr.1 level. A $250,000 yearling, Scat Daddy was a Gr.1 winner at two and three, and immediately showed his class as a stallion as the leading freshman sire in the USA in 2011, finishing an impressive third on the general two-year-old sires table. Unfortunately, he died unexpectedly aged rising twelve, in the year Justify was born, with only one crop coming after Justify. Scat Daddy shuttled to Australia for one season, and spent another Southern Hemisphere season in Chile which resulted in him winning the Champion Sire title in that region in 2013/14.
Scat Daddy is 4fx2f to Mr. Prospector and more line-breeding to Mr. Prospector features highly in many of Scat Daddy's progeny with 54 of his 136 stakes winners coming from dams whose sireline traces directly to Mr. Prospector. Justify does this in a light way, bringing in a line of Mr. Prospector via his second damsire Pulpit, who is out of a Mr. Prospector mare, and again through his sire Ghostzapper's sire Awesome Again, whose second dam is by Mr. Prospector; resulting in Justify being 5f,3fx6f,5f to the champion sire and quality sprinter.
Importantly for the Australian market, which is dominated by the Danehill and Danzig lines, Justify is free from both Danzig and Danehill, while these two stallions are brilliant crosses with Mr. Prospector.
Scat Daddy has proven to be a big loss with his early death; and the baton now passes to his sire sons. Champion 2YO Colt in France, No Nay Never was one of the first Scat Daddy's to retire to stud in 2015 and he now has 36 stakes winners and stood in 2021 in Ireland for €125,000, an indication of his popularity and early success. His three Gr.1 winners include July Cup winner Ten Sovereigns who is out of an Exceed and Excel mare.

Justify's dam, Stage Magic (Ghostzapper) won three races at 1600m and 1700m, and was multiple times stakes placed, including a third in the Gr.3 Ellis Park Gardenia Stakes. Her first foal, The Lieutenant (Street Sense) won four races including the Gr.3 Golden Gate All American Stakes, and her second foal Holiday Music (Harlan's Holiday) won twice at lower levels. Justify was her third foal, and second stakes winner. Since Justify, she's had another three foals of racing age, including winner Stage Raider (Pioneerof the Nile).
Stage Magic is a daughter of Gr.1 American Oaks placed, winning mare Magical Illusion (Pulpit) who is out of Gr.3 winner Voodoo Lily (Baldski). Voodoo Lady is a full sister to Listed winner Stone Bluff who won an impressive sixteen races, including two as a two-year-old; and is also a half-sister to Listed winner Gizmo's Fortune. This is a solid running family with plenty of stakes horses, such as Kid Cruz, Soothsay, Spellbound, and Breeze on By. Stage Magic's winning half-sister Magical Weekend is the dam of last season's Gr.2 placed winning two-year-old McLaren Vale (Gun Runner).
Justify's damsire Ghostzapper stands at Hill 'n' Dale Farm for US$75,000 and retired to stud in 2006. A Gr.1 winner as a three-year-old over 1300m, he improved again at four to win the Gr.1 Breeders' Cup Classic over 2000m and the Gr.1 Woodward Stakes and was crowned USA Horse of the Year. He came back at five to win another Gr.1, this time over a mile. As a stallion, he has 89 stakes winners and thirteen Gr.1 winners; while as a damsire he already has 27 stakes winners from just over 500 runners to date, obviously led by Justify with three other Gr.1 winners; Drefong, American Gal, and Silent Poet.

Check out Justify's full page on STALLIONS and download his 2022 STALLIONS page
Justify has a very American style of pedigree and brings an important outcross to the prominent Danzig/Danehill lines in Australia.
Coolmore Stud and their clients have supported Justify's stud career with an incredible collection of broodmares for his first crop. In the northern hemisphere, he served at least thirty-two individual Gr.1 winners including Champion 2YO Fillies winners Caledonia Road, Champagne Room, Clemmie, Morena, and Take Charge Brandi, Champion 3YO Fillies Immortal Verse, Marie Madelaine, Morena, Silvester Lady, as well as dual champion Found. This first crop has just turned two and Coolmore is eagerly awaiting the beginning of the flat season with several high profile youngsters in the O'Brien stable including a filly out of Champion 2YO Ballydoyle and a colt out of Gr.1 winning juvenile Together Forever.
Justify's first crop of southern hemisphere yearlings have an equally stellar collection of broodmares with twenty five yearlings at the Inglis Easter Yearling Sale, led by yearlings out of Champion Filly Atlantic Jewel (dam of Gr.1 winner Russian Emperor), Bullion Mansion (the winning dam of Gr.1 winner Mighty Boss and Gr.3 winner and Gr.1 placed Coastwatch), Gr.2 winner Fontein Ruby (dam of Gr.2 winner Parure), Champion 2YO Filly Kononkop, group placed winner Maastricht (dam of Gr.1 winner Loving Gaby), Mignard (dam of triple Gr.1 winner Le Romain), and Gr.1 Stradbroke Handicap winner Srikandi.
Meanwhile, at the Magic Millions Gold Coast Yearling Sale earlier this year, the Justify filly out of Gr.1 winner Global Glamour sold for $900,000, and the colt out of Listed winner and Gr.1 Golden Slipper placed Lake Geneva made $600,000. Also among the twenty-six yearlings catalogued were yearlings out of dual Gr.1 winner Savvy Coup, Gr.1 winner The Party Stand, and Gr.1 winner Black Mamba.
In America, nine of Justify's first crop of yearlings sold for more than A$1million, while a colt from Zipessa sold at Japan's JHRA Select Sale for ¥200m (A$2.5m).
"Justify was a phenomenal racehorse who re-wrote the history books through his achievements on the track. It is an absolute privilege to stand him at Coolmore Australia alongside our other Triple Crown winner American Pharoah," said Coolmore Stud's Tom Magnier.
It's hard to adequately put Justify's race record into any sort of context; given the unique achievement he has as an unbeaten Triple Crown winner. He jumped and led in all of his races and finished off each race pulling away from his opposition. If his progeny inherit a fraction of that amount of heart, he's going to have an excellent stud career. Throw in the quality of support given to him, and the future for Justify looks very bright indeed.
As an added bonus, if any were needed, Coolmore has announced that the owners of the first Southern Hemisphere conceived winner of any one of 167 specified races will win a Ferrari, a swift red car to reflect the talent of this swift red horse.