Kandice Pritchard and her partner Brad Lowe have come a long way over the last 20 years.
Kandice Pritchard and her partner Brad Lowe have come a long way over the last 20 years.
Their KBL Thoroughbreds – Kandice, Brad, Lowe – alongside the rustic Beaudesert racecourse, some 40km south of Brisbane, is one of the busiest and most highly respected operations of its type in Queensland. But their success has come at such a cost that they are now planning to savour the fruit of their achievements.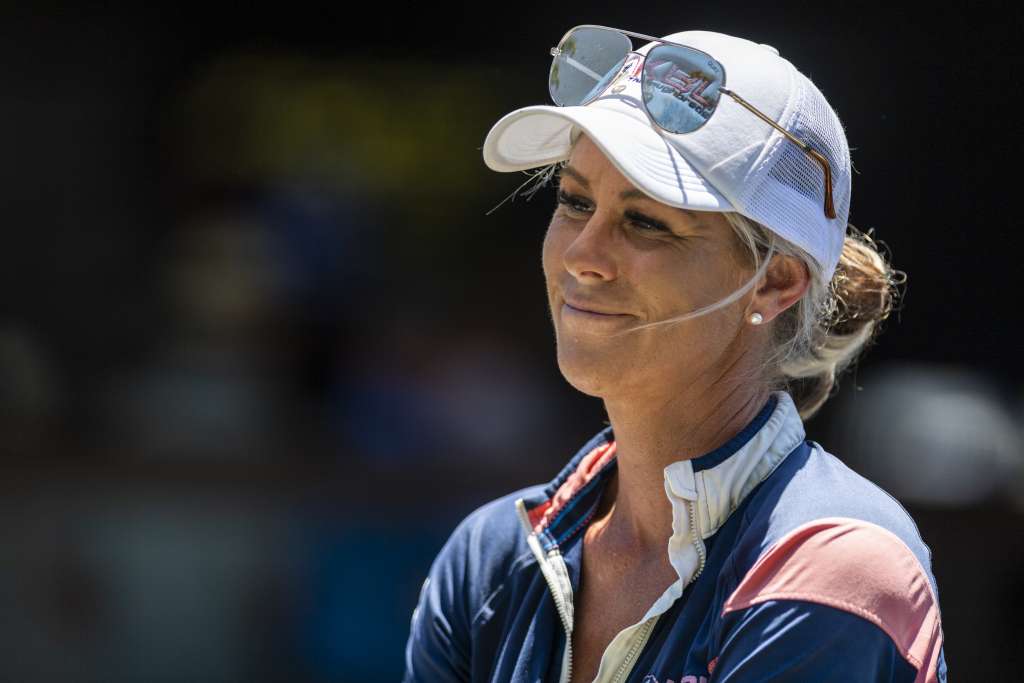 It is the end result of a five-year plan put into place when KBL Thoroughbreds was launched.
"The plan involved the cutting back of our drafts from next year," Kandice explains. "Our children have grown up pretty much in day care because both Brad and I have always been working full-time.
"When we launched KBL we developed a plan that was aimed at enabling us to begin to concentrate on quality rather than quantity after the first five years, so we would be able to spend more time with the kids.
"For a long time now we've been wanting to focus on them." Their eldest child, Chloe, is 20, while they have Chelsea, who is 14, and Tyler, who is 12. Both Chloe and Chelsea have already indicated their intentions of following along a similar pathway to their mother.
Chloe is apprenticed to the Beaudesert trainer Matthew Dunn, while Chelsea is doing home schooling to enable her to work alongside her parents when she is not studying. "Chelsea just wants to do the horses," Kandice says. "She loves going to the sales and being involved in everything else we do. It's great that Chloe and Chelsea feel the way they do and with Tyler liking the horses as well and that all helps bring us closer together.
"Between us, Brad and I, we have hardly had a day off since Chloe was born, so that's a long time and it meant we weren't always around for the kids." It has been an era in Kandice's life which has been spent productively, however.
"Over the years I have worked with some very well-known and knowledgeable individuals, which has been a great help," she says. "I've ridden track work, have ridden in show jumping and dressage events at a competitive level and have been breaking-in horses of all ages and types. "Because of this I believe I now have an advanced knowledge and experience in handling equines of all ages.
"I have been involved in around the clock supervision of broodmares and am able to assist with the delivery process and difficult births." Importantly, over the last decade, Kandice has also refined the art of preparing yearlings.
This has entailed providing the appropriate nutrition and exercise to ensure that, as they are growing, they are given the 'best possible chance' of reaching their full potential. Indisputable evidence of this has come from the results registered by Kandice. Yet this has been realised without a family background, or even a family interest for that matter, in horses.
Even though her father Shane, as well as other members of the family, were not 'horsey people' Kandice has had, for as long as she can remember, a love of horses. Her earliest years were spent at Beenleigh, a town famous for its Beenleigh Rum Distillery in the City of Logan about 30km south-east of Brisbane.
"My Dad lived on the Logan River and there were horses in the backyard," Kandice says. "When I was around nine or 10 I begged him to please allow me to have some riding lessons, which he did but coming from a non-horsey background it was hard to convince my family I just loved horses.
"About then I also had my first pony, whose name was Teegan." After finishing her primary schooling Kandice attended Beenleigh High School, however, by the end of year 10 she was ready to spread her wings. She and a school friend decided to ride their horses out to Biddaddaba, which is a town of less than 200 people in the Scenic Rim region of the Gold Coast hinterland. "We came across the B.J. Kaneto warm blood stud and asked whether there were any jobs available," she says.

"There were and I stayed there for four of five years, until the property was sold. That was where I received my initial grounding in the horse business because I did breaking-in, dressage and show jumping all over the Brisbane warm blood circuit.
"I also worked with the stallions so I pretty much learned everything while I was there. The stud's breaker Wayne Baney taught me all about the handling of young horses and that has been invaluable."
With this experience behind her Kandice joined Wadham Park at Canungra, in the hinterland about 30km from the Gold Coast. At that stage the property was owned by Peter Rowsthorn, a former chairman of Toll Holdings, Australia's largest transport company.
"I was doing the younger stock and riding track work," Kandice says. "Peter was amazing to work for and while I was at Wadham Park he bought me my first car and helped in every way he could. Peter built an equine hospital about a kilometre down the road from the stud and I was able to start doing my vet nursing there.
"I learned a lot from Kallene Faull about the nursing and she was a valuable mentor to me. The hospital had a rehabilitation centre so there was a lot to learn and I can't praise Kallene enough for the way she taught me and looked after me."
It was during her stay at Wadham Park that Kandice enjoyed a Saturday afternoon watching the Kingfishers rugby league side playing matches in Beaudesert. "I met Brad at one of the games when I was 17 and we've been together ever since," she says. "It's been a long time."
While their romance was evolving Peter Rowsthorn sold Wadham Park – the property later became Nathan Tinkler's Patinack Farm and is now the Fung family's Aquis Park – to concentrate on the breeding operation he was establishing at Tylden in Victoria.
With the sale of Wadham Park Kandice and Brad decided to move to Mt Isa, in the gulf country in the far north-west of Queensland. Brad had earlier been attracted to Mt Isa, with its vast array of lead, silver, copper and zinc deposits, and had been working in the mines on a fly-in, fly-out basis.
It was quite an adventure when, with Chloe and Chelsea and two stock horses, Kandice and Brad set out on the arduous trek to Mt Isa, which is nearly 2,000km from Brisbane.
However, once settled in the 'oasis of the outback' Kandice was content. "I absolutely loved Mt Isa," she says. "Not everyone loves the place but I did because the atmosphere was so laid back and there was no pressure there. I enjoyed being able to ride up into the hills and saw all the wild pigs, which was all pretty cool.
"I ended up managing the mine site vehicles there. That involved ensuring all the vehicles going on-and-off site were certified and up to scratch to pass all the rules and regulations.
I was able to ride around on the stock horses, which was fun, and the kids got their first pony while we were there."
When an opportunity to become stud manager of Fig Tree Thoroughbreds in the Biddaddaba Valley became available early in 2013 Kandice and Brad elected to undertake the long move south to country they knew well. While she was managing Fig Tree, which had previously been the B.J. Kaneto stud before being taken over by Murray and Sue Murdoch, Brad took up a position as a supervisor for Penta Plumbing.
Kandice's duties at Fig Tree entailed foaling down, yearling preparations, handling computer systems, assisting veterinarians, chiropractors and farriers as well as liaising with a client list including Gai Waterhouse and Peter Moody. "I loved the property and the kids loved growing up there, which was great," she says.
"They often talk about the time they spent at Fig Tree. That was where I really caught the bug for yearling preparations, I really loved doing that." Foremost among the yearlings she prepared was Jonker, who is by Spirit of Boom from the Kempinsky mare Hearts and Arrows.
Sold for $45,000 at the 2017 Magic Millions Gold Coast Yearling sale Jonker, has since gone on to win races such as the MVRC Manikato Stakes-G1 in late October last year, when in the stables of Tony Gollan, and with his placings featuring a third in the ATC The Galaxy he has so far amassed more than $2 million in prize winnings.
Not long after Jonker was sold as a yearling Kandice and Brad were in a position to establish KBL Thoroughbreds on the acreage they have at Beaudesert. An important influence at that stage of their lives were Andrew and Lasca Bowcock, who they had met during the time Kandice was working at Fig Tree. "The Bowcock family had the Alanbridge Stud in the Segenhoe Valley for three generations and have bred some top horses over the years," Kandice says.
"One of Andrew's best in recent years has been Quick Thinker, by So You Think, who was bred by Bowcock Bloodstock and went on to win the Australian Derby at Randwick. When I was at Fig Tree Andrew and Lasca gave me a yearling to prepare for the Magic Millions and they were so pleased with what I did that they gave me a push I needed to go out on my own. Then when KBL was established they sent me my first draft of yearlings to prepare, which was great.
"They have been wonderful supporters and I am so grateful to them for the help they have given us." Even with the support of the Bowcocks and others Kandice and Brad went very carefully into the new project. For about 18 months, while they were putting KBL Thoroughbreds on a firm footing, Kandice managed the horses under the banner of Mishani Enterprises and Brad continued in his role at Penta.
One of the most admired names in Queensland racing Mishani Enterprises is the racing and breeding interest of Mike Crooks, the principal of the world renowned Barrier Reef Pools, which has its manufacturing facility at Beaudesert. A strong supporter of the State's thoroughbred industry Mike breeds about 40 foals a year so handling Mishani Enterprises was quite a demanding position for Kandice to undertake.
"I was full-time at Mishani for about a year-and-a-half," she says. "Brad and I would both get up at 3.30 in the morning do our yearlings and then going to our full-time jobs. I'd look after the mares and foals and the weaning and all the handling until the Mishani's horses went off to the breakers and then on to Mike's trainer Les Ross."
Kandice remembers Mishani Hustler, who was by Exceedingly Good from the Falvelon mare Mishani Sinner, as being her 'favourite' during her period handling Mike's horses. Under Les Ross's tutelage he went on to win eight races featuring the BRC Dalrello Stakes-LR.
"Over that time I was at Mishani I became very good mates with Mike and he has been unbelievably good to us," she says. "He has been a really good mentor and when we found we were becoming too busy with yearlings Mike said it was probably time we began concentrating solely on KBL.
"He pointed us in the right direction and it was the push we needed." It was also timely because in the years since the number of yearlings KBL Thoroughbreds is processing for the annual round of sales has ballooned to around 120. The demand for KBL's services led to Brad, who 'loves the horses', leaving Penta about 15 months ago to work alongside Kandice full-time.
The KBL series of presentations automatically begins with the Gold Coast Magic Millions and continues through to the Inglis Classic in Sydney. KBL went even further earlier this year when preparing youngsters for the Magic Millions sale in Adelaide.
There were two particularly pleasing results highlighting this year's round of sales for KBL.
"We bought a weanling by Kermadec from the Lonhro mare Dawaa online for $10,000 and we sold him at the Inglis Classic for $170,000," Kandice says. "We also sold for $90,000 a Winning Rupert from the Catbird mare Grand Bird, which we had bought in-foal for $11,000 in 2020 so that was great.
"Besides the yearling sales we prepare horses for the ready-to-run sales so we always have a lot to do." Along the way they have developed their property and neighbouring properties, which they lease. "There was only a house on the property when we bought it," she says. "We've developed the place and now it is complete with two barns with 45 boxes, paddock fencing, yearling runs, a round yard, a walker and everything else we need.
"Brad did the majority of the work and we have everything we need to prepare yearlings and horses for the ready-to-run sales We also have a very good client list so we are very happy about the way everything has been progressing."