Launching a new stallion is a step-by-step process and Rich Hill Stud is an experienced player with John Thompson quietly confident he can deal a winning hand at Karaka this year with Ace High.
The first crop of Rich Hill's dual Group 1-winning son of High Chaparral will be on offer during New Zealand Bloodstock's National Yearling Sale with 15 youngsters carded in Book 1 and a further two dozen through Book 2. Thompson will be presenting a quality sample of a dozen through his draft across both sessions and is bullish about the response from the buying bench.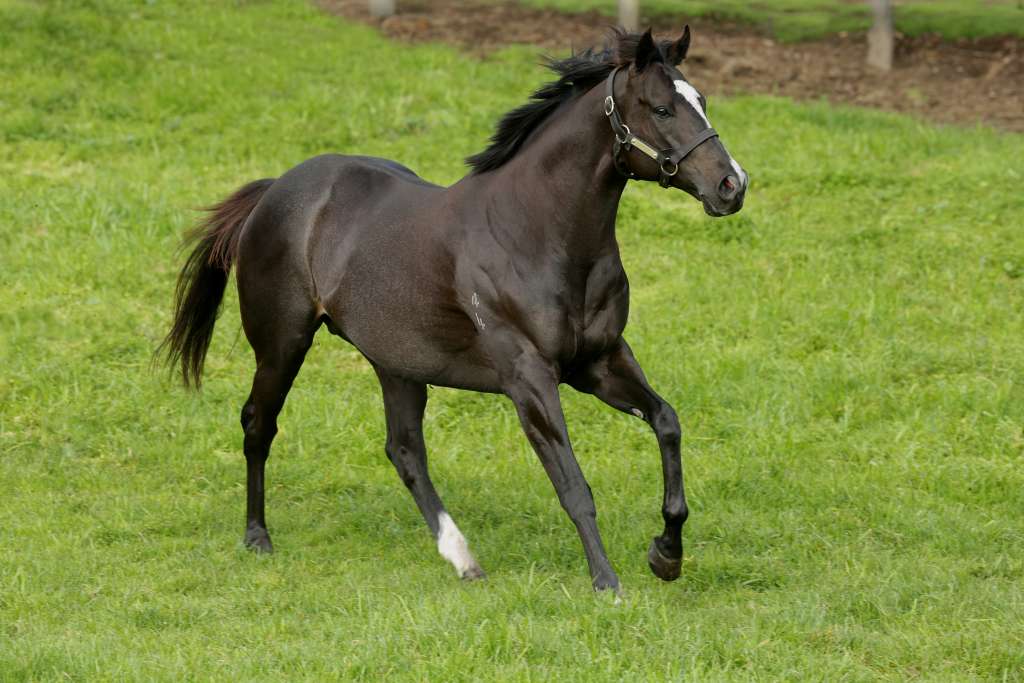 Ace High
"Traditionally, Ace High is the type of stallion that buyers have come to New Zealand to purchase. A tough and sound horse who had two-year-old form and trained on to be a dominant spring three-year-old," he said.
Ace High was a juvenile winner and finished fourth in the Champagne Stakes-G1 and the following season he completed the rare Group 1-winning double of the Spring Champion Stakes and the VRC Derby and finished runner-up in the Australian Derby-G1. He was also successful as an older horse in the Hill Stakes-G2 and the Gloaming Stakes-G3.
"He's by High Chaparral who was such a success story for the New Zealand industry when he was here," Thompson said. "Ace High had plenty of speed as well and ran second to Champagne Cuddles as an October 2-year-old over 1100 metres at Rosehill.
"He is certainly a horse we are excited about and hardly a son of High Chaparral has failed at stud. He's had So You Think, Dundeel, Toronado, Contributer, Tivaci and Redwood, and Ace High is as well-credentialled as any of them." Thompson also pointed to the potent female line he hails from.
"He's out of a Redoute's Choice mare out of a Sunday Silence mare and his sixth dam is Natalma, the mother of Northern Dancer, who is the greatest stallion of all. His fifth dam is also the grand-dam of Danehill so it's a pretty complete package," he said.
Australasian breeders have also sided with Ace High, who served 99 mares in his first season and that number has climbed year
on year. "He's one of the few stallions we've had whose books have got bigger and bigger and he served 115
in 2021," Thompson said. "That's perhaps an indication of the High Chaparral factor and the quality of the progeny he
has thrown."
An Ace High favourite in the Rich Hill draft is Lot 7, a filly out of the unraced Tavistock mare Tellmeaboutit and she is a daughter of the Warwick Stakes-G2 winner What Can I Say. "It has been a fantastic family over the years for the farm and still very current through Babylon Berlin," Thompson said. The Ben Foote-trained mare is a multiple Group 3 winner and Group 1 performer. "Our filly is a magnificent type and a great way to kick off the stallion," Thompson said.
Satono Aladdin
Rich Hill's Book 1 draft will also include representatives of Japanese shuttle stallion Satono Aladdin, a Group 1-winning son of Deep Impact. "He has already got some runs on the board pre-sale with his two-year-olds so he's tracking very well," Thompson said.
From a handful of starters, Satono Aladdin has sired Te Akau's impressive debut winner Kabugee and the Listed Fasttrack Insurance Stakes runner-up Sacred Satono. "Kabugee looks a very exciting prospect and Sacred Satono already has black-type and ran a nice race in the Karaka Million," Thompson said. "There has been some great feedback about Satono Aladdin's progeny and we have a very nice line of them to offfer. They did sell exceptionally well last year with his top lot realising $360,000."
Among them in Book 1 is Lot 268, a son of the Rip Van Winkle mare Gardenier and she is a half-sister to the stakes winner and New Zealand 2000 Guineas-G1 runner-up Chambord. Lot 481 is a half-brother to the Group 1 performer Masetto with their dam the Waikato Gold Cup-G2 winner Passchendaele.
Proisir
Associate sire Proisir has a colt, Lot 495, in Rich Hill's draft and he is from the family of the Wellington Cup-G2 winner Graphic and Lady Annaliese, an American stakes winner who finished third in the New Zealand Oaks-G1. "Proisir has made a significant impact ahead of this sale through his daughter Levante, who won the Telegraph Handicap and BCD Sprint-G1 double," Thompson said.
"He's also sired the likes of Dark Destroyer, Riodini and Yonce, who has won her first three starts in Victoria impressively. He started off at $7000 and he's since covered a lot of Book 1 mares and books of 150 and 130 in the last couple of years so we are really excited how he has upgraded his mares and we believe the best is yet to come," Thompson said. "We would like to think he can go to another level."
Vadamos
Vadamos has a number of promising young horses, including the exciting La Crique, a runaway winner of the Desert Gold Stakes-G3 and a live Group 1 Derby prospect, and black-type winners Art De Triomphe and two year-old Grace's Secret. "Vadamos has made a great start with three New Zealand bred stakes winners and some nice horses coming through in Australia," Thompson said. "Being a son of Monsun, we all know they generally get better and better and love the firm turf and we are extremely hopeful Vadamos will be an asset to the industry in the years to come."
High hopes are held by Rich Hill for Lot 230, a half-sister to the Wellington Cup-G3 winner Solseifei with their dam the Van Nistelrooy mare Evaline. She is a half-sister to the Sydney Cup-G1 winner Gallic with the third dam the former top race mare Solveig, the three-time Group 1 winner of the New Zealand Oaks, Avondale Cup and DB 1600.
Shocking
The emergence of star Australian performer I'm Thunderstruck, winner of the Toorak Handicap-G1 and the Golden Eagle, has kept his Rich Hill-based sire Shocking in the limelight. "It reminds people of what a good stallion Shocking is and I'm Thunderstruck is a horse that has really captured the public's imagination," Thompson said. "What he has achieved in such a short space of time has been incredible and Shocking has got plenty of nice horses to back him up, he's having a very good season."

His daughter Self Obsession has also starred on the domestic scene ahead of Karaka with the Jamie Richards-trained filly successful in the Royal Stakes-G2 and David and Karyn Ellis Fillies Classic-G2, while his son Lincoln King outstayed his rivals to win the Wellington Cup-G3. Shocking has a smart colt, Lot 121, in Thompson's draft with the youngster a brother to the farm's multiple winner Shockallia and their dam is a half-sister to the Gilgai Stakes-G3 winner, multiple Group 1 placegetter and sire Fast 'N' Famous.
Rich Hill's Book 1 consignment will also include representatives of So You Think, Pariah, American Pharoah, and Iffraaj. Its Book 2 draft features sons and daughters of Ace High, Proisir, Satono Aladdin, Shocking, Vadamos and Per Incanto.
2022 Karaka Draft
| | | | | |
| --- | --- | --- | --- | --- |
| 7 | F | 27/09/2020 | Ace High (AUS) | Tellmeaboutit (NZ) |
| 60 | C | 24/09/2020 | So You Think (NZ) | Wyetta (NZ) |
| 72 | C | 24/11/2020 | Pariah (AUS) | Alacer (AUS) |
| 77 | C | 11/09/2020 | Satono Aladdin (JPN) | All About the Coin (AUS) |
| 97 | C | 6/09/2020 | American Pharoah (USA) | Archangel (AUS) |
| 121 | C | 11/09/2020 | Shocking (AUS) | Berzallia (AUS) |
| 130 | F | 10/10/2020 | Ace High (AUS) | Bluegrass (AUS) |
| 185 | F | 24/09/2020 | Ace High (AUS) | Courte Noire (NZ) |
| 230 | F | 12/10/2020 | Vadamos (FR) | Evaline (NZ) |
| 263 | F | 5/09/2020 | Ace High (AUS) | Fuar (NZ) |
| 268 | C | 24/09/2020 | Satono Aladdin (JPN) | Gardenier (NZ) |
| 323 | F | 15/08/2020 | Satono Aladdin (JPN) | Inthespotlight (NZ) |
| 404 | F | 18/09/2020 | So You Think (NZ) | Maxima (AUS) |
| 458 | C | 20/10/2020 | Iffraaj (GB) | O'Fille (NZ) |
| 481 | C | 21/10/2020 | Satono Aladdin (JPN) | Passchendaele (NZ) |
| 495 | C | 11/11/2020 | Proisir (AUS) | Pirinitete (NZ) |
| 505 | F | 27/08/2020 | Ace High (AUS) | Princess Biscotte (AUS) |
| 569 | F | 28/08/2020 | Satono Aladdin (JPN) | Shanpanichi (AUS) |
| 582 | C | 18/09/2020 | Satono Aladdin (JPN) | Sima (AUS) |
| 590 | F | 13/10/2020 | Ace High (AUS) | Snow Petal (AUS) |