"Three stallions standing in the Hunter Valley have the Mapperley brand on their shoulder," said Simms Davison. "It's a huge achievement that we are very proud of, and we are really excited to bring another quality draft of yearlings to Karaka this year."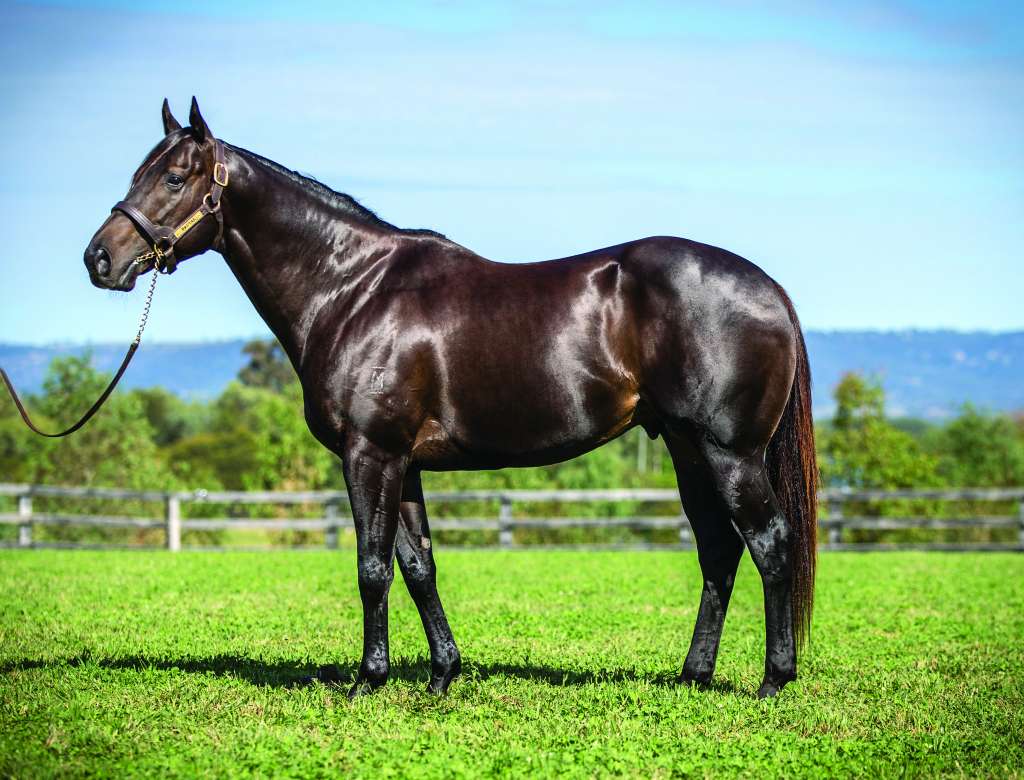 Quality mare Llanacord (Contributer) joins the long list of Mapperley graduates, with the G2 winner and G1 New Zealand Oaks placegetter costing $15,000 from a Mapperley draft at the New Zealand Bloodstock Yearling Sale. Age of Chivalry (He's Remarkable) is another Australian group winner from recent drafts, while Rattan (Savabeel) and Reliable Team (Reliable Man) are both group winners in Hong Kong. Throw in Listed winners Star of Bombay (Atlante), Southern Ocean (Ocean Park), and Our Boy Ritchie (He's Remarkable), and a solid collection of group placegetters and Mapperley certainly continues to deliver on their long history of producing top quality racehorses.
Mapperley Stud has a big draft of thirty-eight yearlings spread evenly across book one and two of the New Zealand Bloodstock Yearling Sale. "We have eleven yearlings by our sire Contributer, and are very excited to bring this crop to the sale off the back of his very successful start to his stud career. Last year, he was the Champion Second Season Sire by winners, total wins, and total earnings. He's doing an amazing job and is keeping up the momentum with his next crop. The Randwick Guineas-G1 win by Lion's Roar helped set the stage for him in the Australian marketplace. Contributer now has five stakes horses in his first crop and recently he's had some good winners in Hong Kong and Singapore too." Contributer's G1 winner, Lion's Roar, won three of his first four starts, then placed in the Spring Champion Stakes-G1 before winning the Randwick Guineas-G1 in the autumn.
With eleven yearlings by their own sire Contributer (by High Chaparral) across both books, fans of the G1 producing stallion have plenty to pick from, led by Lot 210, a half-sister to G2 Wellington Guineas winner Sacred Park, and this filly has plenty of upside as her dam, Dosh (Danske) is a full sister to G3 Lowland Stakes winner Molta. From the same family is Contributer filly Lot 453 who is the third foal of winning mare Nomisma (Thorn Park) who is a full sister to Sacred Park. "These are two nice big scopey athletic fillies who are closely related to each other. Both are lovely Oaks types of horses."
Contributer's impressive filly Llanacord won the Lowland Stakes-G2 and placed in the New Zealand Oaks-G1 as well as at group level in Australia. Her half-brother, by Time Test, is Lot 358, and this colt is out of a winning half-sister to G1 winner Ad Alta and Listed winner Posing, dam of group winner Zanna.
Stakes placed winner of six races, Sultry Assassin (Keeper) is the dam of Lot 622. "A well built strong filly who should get up reasonably early. She has a great attitude, is a good doer who could live off a blade of grass and copes with everything well." Her second dam, Blackrock College, was a top three year-old filly, winning a G3 and placing in the One Thousand Guineas-G1. The Contributer colt, Lot 46, is the first foal of Australian winning mare Victory Parade (Street Sense). "We bought the mare specifically for the cross with Contributer and are thrilled with this colt. He should suit the early three year-old races in Australia."

What is the most important aspect of running Mapperley in your opinion?
"Breeding Athletes. It's that simple – everything starts and ends with that focus. The rolling hills here at Mapperley give young horses an athletic head start and this helps build bone and muscle."
Who have been the most important influences on you?
"I've been here at Mapperley for twelve years and can honestly say I didn't have one single big influence on my career. At the beginning, I decided to surround myself with good people and wasn't afraid to pick up the phone and ask questions of knowledgeable people. That allowed me to pick my own path by listening to a lot of different opinions and sorting through them to figure out what fits me and the farm."
Is there a particular philosophy that you like to pass on to your staff at the farm?

"Coming from my rugby background, we used to talk about the small things mattering. At Mapperley we use the same idea; get the small details correct to gain the big picture results."
Mapperley's international success should overcome the border issues currently being experienced by New Zealand, and Mapperley have been working hard to make things easier for buyers to purchase their yearlings online. "As the result of the borders being shut, we've concentrated on getting the right information to buyers by putting a large focus on getting quality videos of our horses which we've complemented with plenty of photos and other information," said Davison.
2022 Draft
| | | | | |
| --- | --- | --- | --- | --- |
| 38 | F | 13/09/2020 | Tarzino (NZ) | Vamoose (JPN) |
| 46 | C | 18/10/2020 | Contributer (IRE) | Victory Parade (AUS) |
| 50 | F | 5/09/2020 | Contributer (IRE) | Vis Ta Vie (NZ) |
| 119 | C | 22/11/2020 | Contributer (IRE) | Belle Gosse (NZ) |
| 150 | F | 12/10/2020 | Contributer (IRE) | Cape Mapperley (NZ) |
| 200 | F | 1/10/2020 | Sacred Falls (NZ) | Dazzling Heights (NZ) |
| 210 | F | 16/08/2020 | Contributer (IRE) | Dosh (NZ) |
| 238 | F | 16/10/2020 | No Nay Never (USA) | Fantasize (AUS) |
| 247 | C | 25/09/2020 | Tarzino (NZ) | Fatuma (FR) |
| 273 | F | 23/10/2020 | Contributer (IRE) | Glamazon (NZ) |
| 284 | F | 3/11/2020 | Contributer (IRE) | Goyescas (AUS) |
| 308 | C | 14/10/2020 | Charm Spirit (IRE) | Ijaaza (AUS) |
| 314 | C | 27/09/2020 | Contributer (IRE) | In a Frenzy (NZ) |
| 332 | F | 6/08/2020 | Tarzino (NZ) | It's All for You (GER) |
| 355 | C | 13/09/2020 | Sacred Falls (NZ) | La Belle Epoque (NZ) |
| 358 | C | 3/11/2020 | Time Test (GB) | L'Accord (NZ) |
| 364 | F | 27/11/2020 | Pride of Dubai (AUS) | Lady of Spain (AUS) |
| 399 | C | 2/10/2020 | Contributer (IRE) | Mapmaker (NZ) |
| 417 | F | 9/10/2020 | Contributer (IRE) | Miss Craft (NZ) |
| 453 | F | 30/09/2020 | Contributer (IRE) | Nomisma (NZ) |
| 552 | C | 29/09/2020 | Ace High (AUS) | Sam I Am (NZ) |
| 622 | F | 28/09/2020 | Contributer (IRE) | Sultry Assassin (NZ) |
Stallions Weekly Bulletin
Subscribe to our weekly newsletter