With two successful sires emerging from their yearling drafts, Pencarrow Stud brings together the enviable combination of lush Waikato mineral rich countryside and decades of proud racing success.
Their long established families continue to win at the highest levels across Australia, New Zealand, and Hong Kong thanks to their strong racing team and their ever-growing list of sales graduates on the track and in the breeding barn.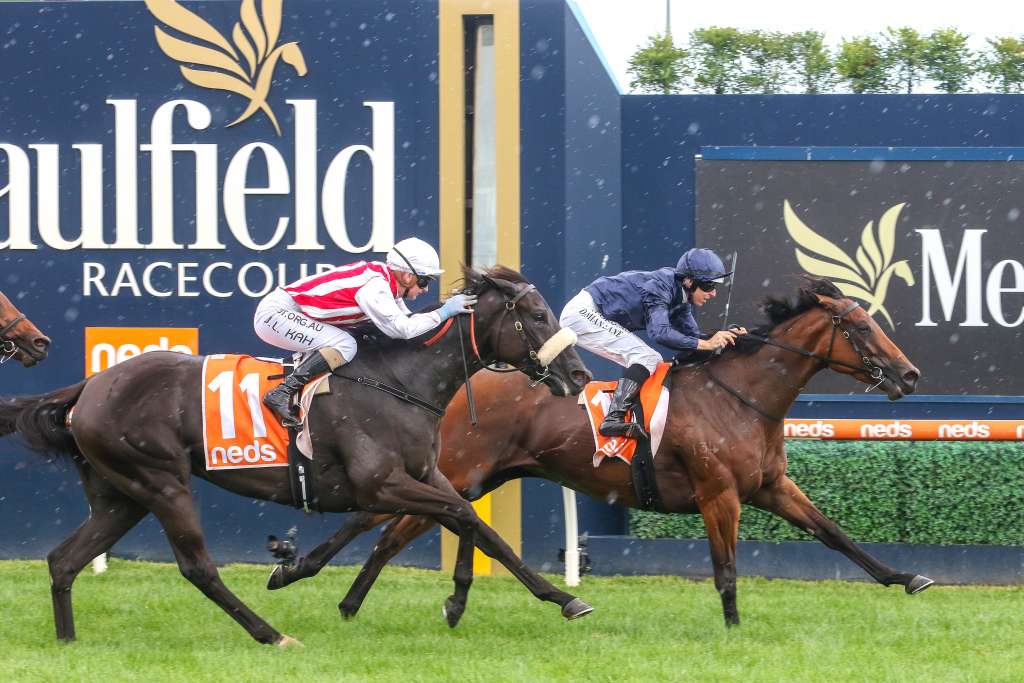 In the 2020/21 season, their New Zealand Bloodstock sale graduate William Wallace (Darci Brahma) won the Timaru Cup-L to bring his record to eight wins, demonstrating the durability of the Pencarrow stock. His sire G1 winner Darci Brahma was, of course, another Pencarrow Stud sales graduate. Another impressive winner this racing season was sales graduate Aqueduct (Dundeel) who has won twice in South Australia since September and ran second in the Murray Bridge Gold Cup-L. One of the highlights of last season was promising mare Butter Chicken (Savabeel) who was a 2019 New Zealand Bloodstock graduate for Pencarrow. She won at her second start in January 2021, then ran second to Parure in the MRC Autumn Classic-G2, while dual two year-old winning gelding Equinox (Exceed and Excel) was a stakes placed winner at three last season and continues to show improvement in the current racing season.
"Pencarrow Stud has enjoyed the ultimate pleasure of watching two of our star graduates confirm their status as commercial stallions," said Leon Casey. "Both Darci Brahma and his three-quarter brother Burgundy sold for over a million dollars as yearlings and both accomplished notable records on the racetrack. In the past twelve months, they have both recorded outstanding achievements with their progeny. Darci Brahma recorded his thirteenth G1 winner when Sierra Sue won the Sir Rupert Clarke Stakes. After a promising start to his career, Burgundy has had a breakout season being represented by star filly Belle en Rouge (Eight Carat Stakes-G2 and third in the One Thousand Guineas-G1), as well as group winner Bellaconte and Mondorani."
Pencarrow Stud has a big draft of 28 yearlings for the 2022 New Zealand Bloodstock National Yearling Sale. Champion Stayer and four time G1 winner Ethereal raced in the famous Pencarrow Stud colours and is honoured by a statue at their property. Ethereal has been an excellent broodmare leaving Listed winner Seraphim, and three stakes placed winners including New Zealand Derby-G1 third placed Uberalles. Three yearlings in the Pencarrow draft descend from Ethereal, and Lot 596, is an I Am Invincible filly who is bound to be sought after. She's a half-sister to G2 winner and multiple G1 placed Supera (Savabeel) and to G3 winner Eleonora (Makfi), out of Sopra Tutto (Van Nistelrooy) an unraced daughter of Ethereal. "This is a classic type of filly with scope and quality to match." Lot 221 is a colt by Rubick (sire of Yes Yes Yes) and he is the first foal of Empyrean (O'Reilly), an unraced daughter of Ethereal; and Lot 595 will catch many judges eyes being by first season sire The Autumn Sun from a winning granddaughter of Ethereal in Sopraffina (High Chaparral). "A very athletic individual with great balance and style."
New Zealand One Thousand Guineas-G1 winner Insouciant (Keeper) has a Dundeel filly, Lot 319, on offer and this filly is a three-quarter sister to this season's stakes placed winner Aqueduct (Dundeel). Two yearling fillies that have very similar pedigrees are Lot 227 and Lot 478, with both being by Iffraaj out of More Than Ready daughters of Insouciant. Lot 227 is out of winning mare Equanimity, whose first foal to race is a multiple winner; while Lot 478 is the third foal of Paris who placed twice in four starts in Australia.
Rasa Lila (Darci Brahma) was one of Pencarrow Stud's standout racemares recently, winning the Travis Stakes-G2 and placing twice at G1 level. Her third foal, a colt by first season sire US Navy Flag, is Lot 517. Rasa Lila is a half-sister to G3 winner Posavina, from the family of Champion USA Sprinter My Juliet, and G1 winners Tis Juliet and Stella Madrid. Rasa Lila's half-sister Choreography (Volksraad) is the dam of Lot 167, a colt by Nicconi, and Choreography's first foal was a winner as a two year-old last season.
A full sister to group placed winner Butter Chicken (Savabeel) is Lot 563, and this yearling filly is the fourth foal of Irish G3 winner and G1 placed Scintillula (Galileo), who first foal is also a city winner. Scintillula is a full sister to two other stakes winners and carries the impressive Galileo/Danehill cross. "A very imposing filly with ample strength and maturity."
The first foal of G3 winner Sleeping Beauty is a colt, Lot 587, by Iffraaj who has been making headlines lately thanks to his boom son Wootton Bassett, and this colt is one of five yearlings by Iffraaj in the Pencarrow Stud draft. Sleeping Beauty is out of a winning Danehill mare who is the granddam of G1 winner Herculian Prince, while Racing To Win and Classique Legend also feature in this family.
The two other Iffraaj yearlings in this draft are Lot 396, a filly out of a young half-sister to five-time Gr.1 winner Alexander Goldrun, and Lot 183, the second foal of Listed winner Cote D'Or who won eight races and is from the Darci Brahma family.
Miss Scarlatti won the VRC Surround Stakes-L and was placed in the VRC Oaks-G1, and her Harry Angel colt is Lot 423. Miss Scarlatti has been a solid broodmare with four winners from five to race and she is a half-sister to stakes winners Abidewithme and Stockman. Miss Scarlatti's winning daughter Fair Isle (Fastnet Rock) has a Justify filly on offer as Lot 236.
Consistency wins for Listed winner Silver Eclipse (Darci Brahma) who is the dam of Lot 581, a colt by Lonhro, as all of this yearling colt's first four dams are stakes winners.
As well as the colt from Rasa Lila mentioned above, Pencarrrow Stud have four other yearlings by first season sire US Navy Flag Two of them are out of stakes placed Fastnet Rock mares, giving them a dual cross of Danzig and Sadler's Wells. A colt, Lot 104, is the fourth foal of Assume who is a half-sister to Italian Listed winner Sanddreamer. The other US Navy Flag bred on this cross is out of G3 placed winner Asama Blue who is from the American family of G1 winner Paris Lights.
Stakes placed winner Echezeaux (Encosta de Lago) is a half-sister to Champion racehorse and successful sire Darci Brahma and closely related to Burgundy, and Lot 214, a colt by US Navy Flag, is her third foal. "An impressive colt with a stallion's pedigree to complement his physique." The other US Navy Flag is a colt, Lot 475, from the family of previously mentioned Cote D'Or.
By Zoustar, Lot 325 is out of group placed winning Danroad mare, Irion. Danroad has made a name for himself as the damsire of Horse of the Year, Verry Elleegant, G1 winner Aclaim, and Listed winner and fourth in The Everest Lost and Running "A filly with real strength and development, in the mould of the best Zoustars." From a strong New Zealand family that includes G1 placed Octapussy, Pussy O'Reilly, and many others.
Other stallions represented in this draft are Ace High (Lot 198), American Pharoah (Lot 137), Ardrossan (Lot 353), Darci Brahma (Lot 586), Deep Field (Lot 271), Ocean Park (Lot 397), Reliable Man (Lot 203), and Spirit of Boom (Lot 493).
Pencarrow Stud have a long history of producing quality racehorses and this draft once again highlights their best families as well as some exciting imported blood with a good mix of colonial and shuttle stallions.
2022 Karaka Draft
| | | | | |
| --- | --- | --- | --- | --- |
| 102 | F | 29/10/2020 | U S Navy Flag (USA) | Asama Blue (IRE) |
| 104 | C | 10/11/2020 | U S Navy Flag (USA) | Assume (IRE) |
| 137 | F | 10/08/2020 | American Pharoah (USA) | Breeze (IRE) |
| 167 | C | 4/11/2020 | Nicconi (AUS) | Choreography (NZ) |
| 183 | C | 2/10/2020 | Iffraaj (GB) | Cote d'Or (NZ) |
| 198 | C | 13/10/2020 | Ace High (AUS) | Dark and Stormy (NZ) |
| 203 | C | 1/11/2020 | Reliable Man (GB) | Deliciano (NZ) |
| 214 | C | 27/11/2020 | U S Navy Flag (USA) | Echezeaux (NZ) |
| 221 | C | 3/09/2020 | Rubick (AUS) | Empyrean (NZ) |
| 227 | F | 17/09/2020 | Iffraaj (GB) | Equanimity (NZ) |
| 236 | F | 10/10/2020 | Justify (USA) | Fair Isle (NZ) |
| 271 | C | 12/09/2020 | Deep Field (AUS) | Giammetti (NZ) |
| 319 | F | 16/09/2020 | Dundeel (NZ) | Insouciant (NZ) |
| 325 | F | 8/09/2020 | Zoustar (AUS) | Irion (NZ) |
| 353 | C | 18/10/2020 | Ardrossan (AUS) | La Adelita (NZ) |
| 396 | F | 5/11/2020 | Iffraaj (GB) | Madrugada (IRE) |
| 397 | F | 31/10/2020 | Ocean Park (NZ) | Makarska (NZ) |
| 423 | C | 29/10/2020 | Harry Angel (IRE) | Miss Scarlatti (NZ) |
| 475 | C | 13/09/2020 | U S Navy Flag (USA) | Palace Gardens (NZ) |
| 478 | F | 24/08/2020 | Iffraaj (GB) | Paris (NZ) |
| 493 | C | 6/09/2020 | Spirit of Boom (AUS) | Pinolino (NZ) |
| 517 | C | 6/11/2020 | U S Navy Flag (USA) | Rasa Lila (NZ) |
| 563 | F | 26/08/2020 | Savabeel (AUS) | Scintillula (IRE) |
| 581 | C | 1/10/2020 | Lonhro (AUS) | Silver Eclipse (NZ) |
| 586 | C | 13/10/2020 | Darci Brahma (NZ) | Skywards (NZ) |
| 587 | C | 7/08/2020 | Iffraaj (GB) | Sleeping Beauty (NZ) |
| 595 | C | 20/09/2020 | The Autumn Sun (AUS) | Sopraffina (NZ) |
| 596 | F | 27/09/2020 | I Am Invincible (AUS) | Sopra Tutto (NZ) |